Customs Brokerage Services
IBI's new flagship product, IBI Customs Link allows approved shippers to enter AWBs and track the progress of those AWBs on line, providing real time assurance of processing and delivery status.
IBI offers complete Customs Brokerage Services, providing door-to-door security and the assurance of one single source for all services for your valuable cargoes.
IBI Customs Services, Inc. has agents ready to help you in every stage of the international shipment process.
IBI Customs Service Inc. offers the following services
Bonded Warehouse
Container Freight Station
Licensed Customs Brokerage
AMS provider
IBI Customs Service Inc's full range of services allows us to transport in-bond materials to and from our customs approved facilites, saving time and offering total security and assurance for high value shipments.
Located in the heart of New York's JFK International Airport cargo terminals, IBI Customs Services, Inc. is ready to manage your international valuables business.
Request a log-in code - try IBI Customs Link today!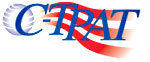 IBI is a member of the Customs-Trade Partnership Against Terrorism.